Halloween With the Dave Wooley Band
Saturday October 29 at 8 pm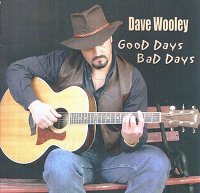 Costume contest ($50 prize for best male and best female costumes) and dance. The Dave Wooley Band consists of lead vocalist Dave Wooley, guitarist Doug Ronco, drummer John Zavodny, and bassist Jack LaBranche. Their latest release is "Good Days Bad Days."
"Feels a little like the Eagles with a smattering of Hank Jr., but any way you cut it, it's got an aura of Heartland that is rare in these parts." - Face Magazine
Tickets $10
Le Vent du Nord
Saturday October 22 at 8 pm
Le Vent du Nord brings together four musicians(Benoit Bourque, Nicolas Boulerice, Olivier Demers, Simon Beaudry)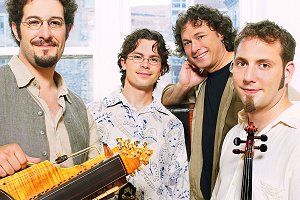 who aim to serve traditional music, a music they know how to renew while respecting its authenticity. A brief but perfectly accurate description might be: 8 musical instruments (including a hurdy-gurdy), 4 voices in harmony, 2 generations of musicians and a master of dance.
Le Vent du Nord has been on a dazzling ascension since the group was founded in 2002. Its first CD, Maudite moisson! , released in Summer 2003 won the 2004 JUNO award for Roots and Traditional Album of the Year/group. They are now touring in support of their second CD.
We saw these guys at a festival in Lafayette, Louisiana, and were so impressed by their talent and high energy, we knew they had to play here.
Tickets $20
Albert & Gage
Friday October 21 at 8 pm
In Austin, Texas—-a town overrun with idiosyncratic singer/songwriters and egocentric guitar heroes—-Christine Albert & Chris Gage have a six-year track record of making beautiful music together. Over the course of four duet albums, the duo have demonstrated that disparate backgrounds do not preclude musical soulmates from finding one another. Albert's honey-drenched voice is one of the best in Austin, gracing everything from a CD-length salute to her Swiss-French roots to Bluebell Ice Cream ads. The South Dakota-bred Gage is a multi-instrumental wizard who has played with Roy Clark and Jimmie Dale Gilmore, and his rich tenor complements Albert's voice like a graceful bow. An evening with the two is a fun and heartwarming experience in which music truly is the food of love.
Tickets $15
Mary Gauthier
Thursday October 6 at 8 pm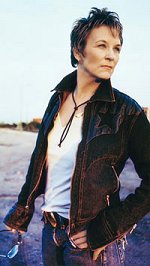 Southern Gothic, Country Noir, Alt-Country are some of the attempts at classifying Mary's music. But a spark of redemption illuminates even the darker songs on Mercy Now, the fourth album by Mary Gauthier whose life story is already the stuff of legend, from spending her 18th birthday in jail, to studying philosophy at LSU, to creating a successful restaurant in Boston, to writing her first songs at 35. She grew up in Louisiana and with her husky drawl, bluesy country-folk fusion, and iconic Southern place names, comparisons to Lucinda Williams are obvious, particularly since they have shared Gurf Morlix as producer and player. Mary's characters are often low-down and gritty, because as she says, that's where the good stories are, but she also says that her philosophy studies taught her that it's not the answers, but the good questions that are the object. It's the subtle spirituality of that tension between dark setting and faint spark of redemptive idea, this Prayer Without Words, that will keep you hooked.
Tickets $15
Rosheen
Friday September 30 at 8 pm
Founded in 1997 by singer-songwriter Lynn Vallières, the folk group Rosheen now boasts seven members, all blessed with a passion for Celtic music. Rosheen has performed all across Québec, and two years ago made a great impression at the Montreal International Celtic Music Festival.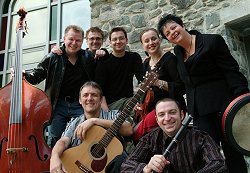 Appearances at other events, such as Le Festival Nouvelle-France in Québec City, have helped spread their reputation across the region. What is most remarkable about Rosheen, a Quebec based group, is that they perform the traditional music of Ireland with such authenticity.
In addition to the crystal voice of Lynn Vallières (recorder and bodhran), six seasoned and versatile musicians make up the band; Michel Hénault (guitar, arranger-composer and writer), multi-instrumentalist Grégoire Painchaud (keyboard, piano, violin, mandolin and arranger-composer), Kattialine Painchaud (violin and harp), François Matte (wooden flute, tin whistle), François Guilbault (double bass and bass) and Christian Paré (percussion and drums).
Tickets $15
The Future of Food: a Film By Deborah Koons Garcia
Saturday September 24 at 7:30 pm
THE FUTURE OF FOOD offers an in-depth investigation into the disturbing truth behind the unlabeled, patented, genetically engineered foods that have quietly filled U.S. grocery store shelves for the past decade.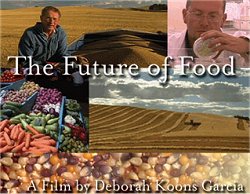 From the prairies of Saskatchewan, Canada to the fields of Oaxaca, Mexico, this film gives a voice to farmers whose lives and livelihoods have been negatively impacted by this new technology. The health implications, government policies and push towards globalization are all part of the reason why many people are alarmed by the introduction of genetically altered crops into our food supply. Shot on location in the U.S., Canada and Mexico, THE FUTURE OF FOOD examines the complex web of market and political forces that are changing what we eat as huge multinational corporations seek to control the world's food system. The film also explores alternatives to large-scale industrial agriculture, placing organic and sustainable agriculture as real solutions to the farm crisis today.
Tickets $5
John Hall and Gulf Stream Night
Friday September 16 at 8 pm
John Hall is best known as co-founder of the band Orleans and writer of the hits Still The One and Dance With Me, but he has been featured as a guitarist on records by Jackson Browne, Little Feat, Bonnie Raitt, Taj Mahal, Carly Simon and others. He has 5 solo albums to his credit, plus two as the John Hall Band.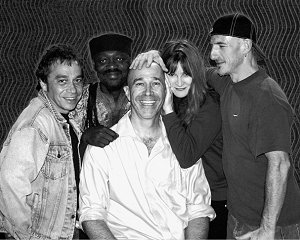 Hall has written songs recorded by artists including Janis Joplin, Linda Ronstadt, Bobby Mcferrin, Millie Jackson, Bonnie Raitt, Ricky Skaggs, James Brown, Steve Wariner, Chet Atkins, Chaka Khan, The Doobie Brothers and James Taylor. His new solo CD, "Rock Me On The Water," memorializes in song a sailing trip from Kingston NY to Havana Cuba, then north to Martha's Vineyard and Cuttyhunk, then south again to Annapolis MD.
John's new band is Gulf Stream Night.The rhythm section is anchored by Peter O'Brien on drums who has played with Orleans, Jonell Mosser, Edgar Winter, Roy Buchanan and Rory Block. Engaged in percussive conversation with Peter is Joakim Lartey, who has collaborated with Futu Futu, Jack DeJohnette and Natalie Merchant. Rounding out the quintet is guitarist and backup vocalist Melanie Hall and bassist Bobby MacDougall.
Tickets $15
The Bluegrass Gospel Project
Saturday August 20 at 8 pm
The Bluegrass Gospel Project is the brainchild of ex-Breakaway fiddler Gene White, Jr., and performs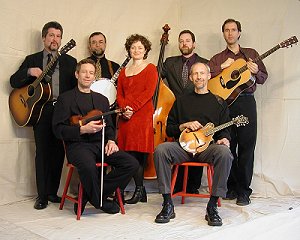 Stanley Brothers-style gospel with an accent on exquisite layered vocal harmonies and impeccable instrumentation. The lineup includes White on fiddle, Northern Lights bluegrass band founder Taylor Armerding on mandolin and vocals, country music veteran Jim DiSabito (once a bandmate of the now-famous "Soggy Bottom Boy" Dan Tyminski of West Rutland) on upright bass, ace banjo player Steve Light, Breakaway veteran songwriters Andy Greene and Paul Miller, and Patti Casey, a prize-winning songwriter who happens to have one of the sweetest singing voices in Vermont. This group is a force to be reckoned with onstage -- they are all fine players, but their voices and harmonies can make you see the light, and tremble.
Tickets $20
The David Munnelly Band
Saturday July 23 at 8 pm
Irish button accordion wizard David Munnelly brings new excitement and depth to traditional music while drawing on past masters including the Roaring 20's Flanagan Brothers for inspiration.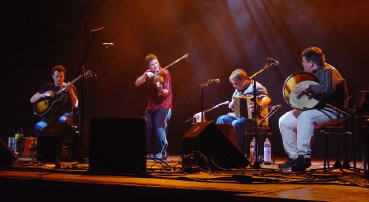 The David Munnelly band has exploded onto the scene, with hit albums in Europe & Japan, dual CD releases in North America, and a full tour schedule. "They are a creative force at the true epicenter of Irish traditional music." (Live Ireland.com)
With their unique West Mayo style of playing - a wilder, freer style of performing Irish traditional music, evocative of the rugged, natural beauty of Ireland's famously beautiful West coast, David Munnelly & his band are making waves on both sides of the Atlantic. David has toured & performed with the Chieftains, DeDanaan, and numerous legendary Irish artists. David also composed & recorded the original soundtrack for a TG4 documentary "Solas sa nDorchadasm" for which he was received the 2003 Composer of the Year Award.
Tickets $15
Ferron
Friday July 22 at 8 pm
Over the past twenty years, writers and reviewers alike have repeatedly recognized Ferron as being one of the finest songwriters in North America. By the time Rolling Stone magazine had given Shadows On A Dime a 4-star rating, Ferron had already gained a nearly fanatical following. With Still Riot and later albums, Ferron continues her tradition of strong and introspective songwriting.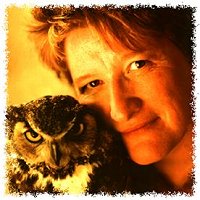 Ferron was born in Toronto and raised in Vancouver in a struggling, working class environment. She left home at 15 to work a series of blue collar jobs and to develop the music that was growing inside her. She found her way to a Vancouver coffeehouse and landed her first gigs. Since that time, Ferron has toured extensively throughout North America. Ferron can certainly be counted as one who helped pave the way for the current folk revival in North America. She has toured recently with The Indigo Girls, who introduced her each night as one of their biggest influences.
"For there's no one quite like the Canadian singer-songwriter… with songs of dizzying intellectual dexterity and emotional purity…The sheer density of her lyrics… multiple metaphors and resonant rhymes… Hers is a complex, challenging and carefully contoured writing, the kind of stuff that doesn't often or easily get committed to disc."
- Helen Metalla, The Edmonton Journal
Tickets $18
The Red Stick Ramblers
Saturday July 16 at 8 pm
Only in the musical melting pot of Louisiana could a genre like Cajun Gypsy Swing have evolved.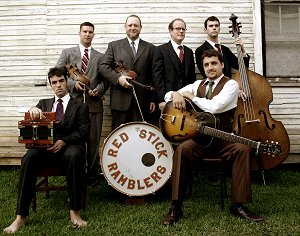 The Red Stick Ramblers play a mixture of Cajun fiddle tunes, Western Swing, traditional jazz of the 1920s and 1930s alongside a steadily growing number of tradition-inspired originals. Based in Southern Louisiana, they build upon the songs of seminal fiddlers like Dennis McGee and Dewey Balfa, along with jazz and country swing bandleaders such as Bob Wills and Django Reinhardt, finding a common thread of danceable rhythms and strong, elegant melodies. The Ramblers recently had everybody two-stepping at the Fais-Do-Do Stage at the New Orleans Jazz & Heritage Festival and are currently touring in support of their terrific new CD Right Key, Wrong Keyhole produced by Grammy-Award winner Dirk Powell.
Tickets $15
Chris Stuart and Backcountry
Thursday June 30 at 8 pm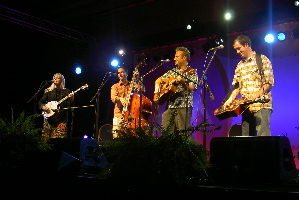 Performing original bluegrass and Americana music, Chris Stuart & Backcountry features Chris Stuart on guitar, Janet Beazley on banjo, Mason Tuttle on bass, Paul Lee on fiddle and mandolin, and everybody on vocals. They are a 2004 International Bluegrass Music Association showcase band and the song, "Silver Quarter," from their debut album, Saints and Strangers, spent twelve months on "Bluegrass Unlimited" magazine's national bluegrass survey chart.
Bluegrass Unlimited: "Vocals are the jewel in Backcountry's crown. Chris's voice is warmly inviting while Janet's has a gentle strength, but when you put them together, magic happens." - Julie Kohler, March 2004
Opening for Chris Stuart will be Anais Mitchell.
Tickets $12
Impromptu
Thursday June 23 at 7:30 pm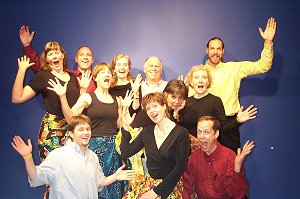 Impromptu, now in its tenth year of performing a capella music throughout Maine, was co-founded by Bronwyn Kortge, who is the ensemble's musical director. The group has changed members over the years but remains committed to sharing the delight of music through its unique blend of voices and eclectic repertoire of songs. Its eleven members are an eclectic mix, as well. They come from all over central Maine and hold down day jobs as varied as lawyer, park ranger, music teacher and physician, among others.
This spring's concert, Traveling through Love, explores the full range of love - romantic, familial, global and gustatory - in songs from The Beatles to Broadway to Russian folklore and everywhere in between.
Tickets $10
Vince Gabriel: 11 Bravo Vietnam
Sunday May 29 at 7:30 pm
In observance of Memorial Day, midcoast musician and songwriter Vince Gabriel (aka Blind Albert) will be performing 11 Bravo Vietnam, songs he wrote about his experiences in Vietnam.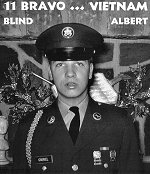 He recorded the songs, written over a period of twenty years, in 2000 and they were the focus of a special edition of National Public Radio's Soundprint in February.
11 Bravo consists of ten songs which chronicle the young high school graduate's life in combat from the time he receives his induction notice till his return home from the war after the Tet offensive. Gabriel has also included selections from his memoirs to introduce each song. In addition, he has created a multi-media collage from personal photographs and documentary footage to accompany the piece.
The hour and a half narrated concert is a personal rather than a political statement, but Gabriel's songs leave listeners haunted by his uncompromising vision, insistent lyrics, and driving instrumentals. Bill Lannon is the narrator and Glen DuBois will oversee sound.
A portion of the proceeds will be donated to The Disabled American Veterans Department of Maine.
Tickets $10
Grace Potter and the Nocturnals
Friday May 27 at 8 pm Grace Potter and the Nocturnals is a young, Vermont based band whose creative blend of roots, funky blues, gospel, and rock conjures a nostalgic sound most likely found in a record collection from the sixties through early seventies.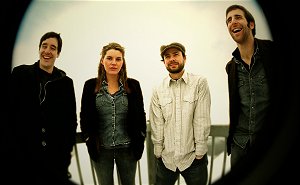 Leading this charge is twenty-one year old Grace Potter whose vocal ability already draws dynamic comparisons to legends such as Bonnie Raitt, Aretha Franklin, Norah Jones, and Janis Joplin. Her unique style behind the Hammond B-3 has also been captivating audiences across the country.
Joining Potter is Scott Tournet (guitar/slide guitar), Matthew Burr (drums/percussion), and Bryan Dondero (upright/electric bass). The band is currently touring in promotion of "Nothing But the Water", a powerful album filled with soul-charged roots, blues, and rock. Visit their site for sound samples from the new record.
Opening for Grace Potter will be Tree By Leaf. "Tree by Leaf is a young band with all the right ingredients: great songwriting, real musicianship, and tons of heart. Keep your ear on Tree by Leaf...they are sure to bloom." -- Sara Willis, Maine Public Radio
Tickets $15
Karen Savoca
Saturday May 21 at 8 pm
Karen Savoca is an extraordinary singer. The daughter of a big band vocalist with a record collection full of the greatest jazz and soul singers, she spent her childhood harmonizing with her family around an old upright piano.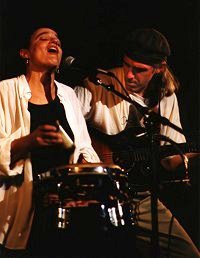 A soulful and engaging performer, Karen draws you into her world like she's inviting you to the table for supper. With a love for the old standards her parents and grandparents taught her, the rhythm and blues of the sixties, and the singer-songwriters of the seventies and eighties, Karen is a songwriter unbounded by topic or style. Whether set in a garden or on a city street, funny or poignant, her songs are full of lasting images, melodies and characters. She has appeared on A Prairie Home Companion, Mountain Stage, The Today Show, and many of the finest festival stages across North America.
This performance is a fundraiser for WERU.
Tickets $12 / $10 for WERU Members
Shiftless and Hungry:
The Shiftless Rounders and the Hunger Mountain Boys
Thursday May 5 at 7:30 pm
The Shiftless Rounders, Phill Saylor Wisor (banjo) and Ben Sidelinger (dobro), layer twangy vocal harmonies with masterful banjo and dobro plucking. Their most recent release, the aptly titled Ghost in the Radio, is like listening to old Folkways records through an ancient Victrola.
Their picking work is next to virtuoso. And even if you're not into the twang, there's that historical dimension, that old Americana flavor in this music. Lyrically, the duo embodies a listless, introspective darkness, offering honest and vivid stories you just don't get in music these days.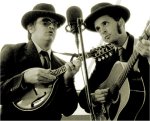 The Hunger Mountain Boys could have easily been performing sixty years ago instead of at the beginning of the twenty-first century High buzzing vocal harmonies, fleet instrumental picking on mandolin, acoustic guitar, fiddle and resonator guitar, coupled with their off-the-cuff stage banter and of course, those classic brown suits, The Hunger Mountain Boys have a duet show like no other on the touring scene today. In the tradition and spirit of the classic country duets of the 1930's, 40's, and 50's, they capture the authentic early-American country sound and the fiery energy of such legendary duets as the Monroe Brothers and Louvin Brothers.
Tickets $10
Vishten
Sunday April 24 at 7:30 pm
Vishten's music is a hardy mixture of French, Irish and Scottish styles, with powerful step dancing taking front and center.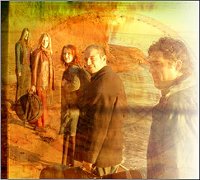 Their stage show re-creates the joy and energy of the "kitchen party," the informal community gatherings where all are welcomed to sing, play and dance. The rhythms and melodies are inseparable, and reflect a special joie de vivre unique to the Acadian culture of Eastern Canada, with flying fingers, tapping feet, and an unabashed sense of celebration.
The group's four members are Pastelle (accordion, piano, dance) and Emmanuelle (bodhran, tin whistle, piano, dance) Le Blanc; Remi Arsenault (guitar, percussion) and Pascal Miousse (fiddle, mandolin).
All the members in the group contribute to the choreography and musical arrangements, they all sing. On stage, they work with individual wooden "blocs" that they sit on, dance and play on top of, and use as percussion instruments with both their hands and feet. Audiences are struck by their whirlwind energy, dancing as they play, and the unbridled enthusiasm they feel for their native culture.
Tickets $12
Unity Centre Earth Day Fest
Saturday April 23 at 7:30 pm
Featured performers in the 7:30 pm concert will include Muddy Roads, a 3-piece string band composed of members Toki Oshima, John Pranio, and Paul D'Alessio from Whitefield and Palermo; Charlie Hendricks & Jason Dean, Belfast-based contemporary vocals and percussion with jazz, hip-hop, reggae; Fiddler's Reach with John Kuehne and Deborah Swart of Waterville, playing rags and old-time music on violin and viola; and Colby College master drummer Jordan Messan Benissan & friends, performing traditional West African rhythms and music, and Montville's own Smokey and Bridget McKeen, playing traditional songs and tunes, on accordian, guitar, and harmonica The final event of the Earth Day Festival will be a boogie dance with a four piece contemporary rock band Almanack, from downeast Maine.
Tickets $5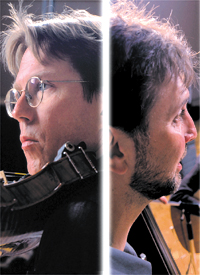 Randy Sabien Quartet: A Tribute to Stephane Grappelli
Friday April 15 at 8 pm
Randy Sabien has lit up jazz clubs and concert halls with his patented "fiddlehead jazz" for more than two decades. Now, the critically acclaimed jazz artist joins bass virtuoso Brian Q. Torff in a new program entitled A Tribute to Stephane Grappelli. Sold-out audiences are captivated by glowing renditions of Grappelli standards, including many from the "Hot Club" era, along with shining examples of the artists' own work and their memories of Stephane. Bassist Torff, who performed with Grappelli throughout the 70's and 80's, brings a tremendous history to the project. The simple format of two guitars, violin and bass are fully realized in this program of acoustic jazz... Hot Club style! Listen!
Tickets $18
Tom Gillam and Tractor Pull
Friday April 1 at 8 pm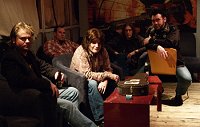 Gillam's fiery brand of slide guitar is uncommon in today's era, and it stands out in the genre. His original sound stems from the ability to weave his guitar playing into the fabric of his music, leaving no part without a strong emotional pull. Each song offers a new perspective on the world and creates a stirring snapshot of life. His lyrics tell the emotional stories of the many characters he has encountered in his travels. "All the songs have a little bit of truth, a little bit of lies, and a little bit of rock 'n' roll," jokes Gillam, "Each song has a specific scenario in mind, and it just flows from there."
Either solo, or with Tractor Pull, Gillam has shared bills with artists such as Son Volt, Bastard Sons of Johnny Cash, the Derailers, Wilco, Tift Merrit, Tom Petty,David Alan Coe,Dale Watson,The Bastard Sons of Johnny Cash, The Greencards,Hank Willams III, Radney Foster, and Garth Brooks.
Tickets $15
Bread and Puppet Theater: World on Fire
Friday March 18 at 8 pm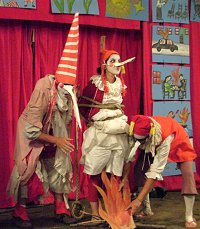 Bread and Puppet Theater is a troupe that performs massive spectacles that address social, political and environmental issues. Through the use of large puppets and a large cast composed of their small troupe and 20 to 30 volunteers(that could be you!) from the local community, they will perform their latest work, World on Fire, in which a group of national emergency clowns demonstrate official reactions to the ultimate emergency. The music is by the Asymmetric Prisoner-of-War Orchestra and their conductor, the Fire Chief. Volunteers are invited to show up Friday afternoon at 3:30 pm.
Tickets $10
Mom's Home Cookin'
Friday March 4 at 7:30 pm
Mom's Home Cookin' delights in uncovering the treasure of an old song long forgotten.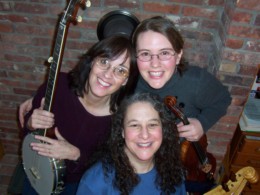 Their repertoire includes hundreds of songs, from old time bluegrass to folk songs of the 1960's; from classic country gems to Victorian parlor songs; from a country blues tune from the 1920's to contemporary treasures by little-known songwriters.
Performing on guitars, banjos, fiddle, autoharp and Appalachian dulcimer, as well a unique array of percussive gadgets, their eclectic style and exceptional vocal blend will warm the hearts of any audience. Their informal, humorous and personal style is down home and uplifting. The music of Mom's Home Cookin' is comfort food for the ears and the soul.
This performance is sponsored by the Women's Environmental Leadership Program(WE Lead of Unity College. Come early for a reception to honor this year's Environmental Leader award winners.
Tickets $10
Sister Moon with Jud Caswell
Saturday February 26 at 8:00 pm
When two songwriters can listen and do a vocal dance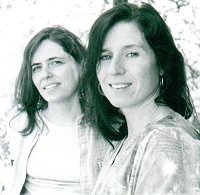 around each other's melodies, their harmonies entwine and become one voice. The music of Sistermoon reflects little moments of life caught with its guard down. This is the magic that is Sistermoon. Katie Dagget-Webber and Susan Reidy thrive on a balance of lyrical content and melodic complexity that pulls at the heart of the listener. The mixture of sparse mements where notes hang naked in the mist and thick harmonies that fill the widest spaces are all a part of what makes Sistermoon come together.
Jud Caswell's music draws comparisons to Paul Simon, James Taylor and Ellis Paul, while the Boston Herald raves that, "Caswell is one of those expert, multigifted folk singers who are surprisingly unknown outside their home territory." Since the release of his latest CD, "Lost & Found," Jud has won the Rose Garden Coffeehouse Performing Songwriter Competition and honors in songwriting competitions in Philadelphia and Boston.
Tickets $10
Bill Flagg
Saturday February 19 at 8 pm
Born and raised in Waterville, Maine, Bill is a veteran of some fifty years as a professional entertainer. Starting in radio as a cowboy singer, he was known as the "The Lone Pine Cowboy."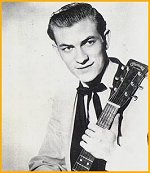 In 1954, he and John Sligar combined what was then referred to as "Hillbilly music" with a new beat called "Rock and Roll" and called it "ROCKABILLIE." This new sound gained such local popularity that Tetra Records of New York offered him a contract. Accompanied by Cat Gibson and Ted Barton, it was recorded for the first time in 1956.
At that Bill was the only one calling his music Rockabillie. Bill Haley, Elvis, Carl Perkins and Jerry Lee Lewis were referred to as Rock & Roll. Elvis was called the King of Rock.
Bill's early recordings were "Go Cat Go" (George Jones, Who's Gonna Fill Their Shoes) and "Guitar Rock," both of which went into the Billboard charts. MGM dropped the name Rockabillie because it sounded too "corny."
At the urging of his son Bob, Bill came back to the music scene after a 27 year lay-off to form a Bluegrass known as "Hobo Bill & The Last Ride." Bill Flagg is a writer who prefers doing his own music, much of which is about New England, especially the state of Maine.
Tickets $12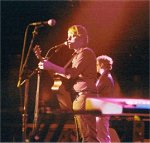 The Navigators
Friday February 4 at 8 pm
Combining the country-tonk of Louisville's backroom bars, the lyrical folk of Appalachia, the downtown swagger of Dylan-era New York and more than a touch of art-rock electronic experimentation, the band manages to be both metro and retro. In a world where music is hawked like just another commodity, The Navigators forge their sound the old-fashioned way - with heart and soul, one step ahead of the machine.
Tickets $12
Crooked Still
Saturday January 29 at 8 pm
Crooked Still
redefines traditional music. With the unusual instrumentation of cello, banjo, bass, and voice, this neo-bluegrass outfit shatters preconceptions without sacrificing authenticity. Their unique combination of driving, earthy grooves and soaring, heavenly vocals has led the Boston Globe to call Crooked Still "the most important folk group to emerge from Boston since…the early '60's."
Drawing from bluegrass, old-time & contemporary folk traditions, Aoife O'Donovan (vocals), Rushad Eggleston (cello), Greg Liszt (banjo), and Corey DiMario (double-bass) put out a low lonesome sound that is simultaneously virtuosic and heartfelt.
Tickets $12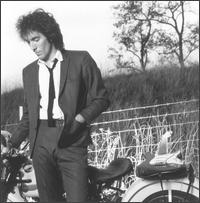 Bill Chinnock & His Band
Friday January 28 at 8 pm
One of the founder's of the Asbury Park music scene, Bill Chinnock, has just released his 10th album. The album is called " Livin' in the Promised Land " and is a return to his blues roots and according to Bill himself "a celebration of American music."
First discovered by the legendary producer John Hammond, Sr. (who once dubbed him "the real essence of American music"), Bill's roots are in the blues as well as roots rock. He has toured with Albert King, Sonny Terry & Brownie McGee, Willie Dixon, James Cotton, John Lee Hooker and many others fashioning his unique style of blues and roots music. He is a soulful singer, lyrical slide & electric guitarist, electrifying harmonica player and a consummate songwriter.
During his career, he has released 10 albums for major labels Kamasutra, Paramount, Atlantic and Sony/Epic, written music for television shows, recorded a duet with Roberta Flack, and received a Emmy Award for Musical Direction and Composition. Listen to his version of Mystery Train
Tickets $20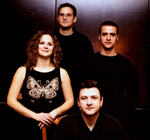 Glengarry Bhoys
Thursday January 13 at 7:30 pm
The Glengarry Bhoys began some six years and five albums ago and have established themselves through a devoted work-ethic of touring and recording. They have accomplished much in this relatively short span of time, thrilling audiences internationally and selling in excess of 85,000 copies of their records independently, a sure signal of their appeal and strength of their craft. The Glengarry Bhoys continue to combine the traditional elements of Celtic music with contemporary sensibilities, giving a fresh perspective to that which they've inherited from generations of like-minded artists.
Tickets $15