Behold, how good and how pleasant for brothers and sisters to dwell together in Unity -- Psalm 133

to our weekly email listing of upcoming events in Unity.
---
Town of Unity
American Legion Post 50
Birding
Business Directory
Comprehensive Plan
Churches
Unity Food Pantry
Friends of Lake Winnecook
Future MSAD3
The Garcelon House
Historical Society
Library
Lodging
MOFGA
Najean Shedyak Photography
Northern Solstice Alpacas
Realtors
Recycling
Restaurants
Rotary Club
Schools (RSU3)
Sebasticook Regional Land Trust
Trails
Unitel
Unitel Phonebook
Unity Barn Raisers
Unity Centre for Performing Arts
Unity College
Unity Flower Shop
Unity Food Hub
Unity Forge
Unity Foundation
Unity Pond Pottery
Unity Raceway
Unity Station
Unity Utilities District
WERU Radio
---
Week of June 18, 2017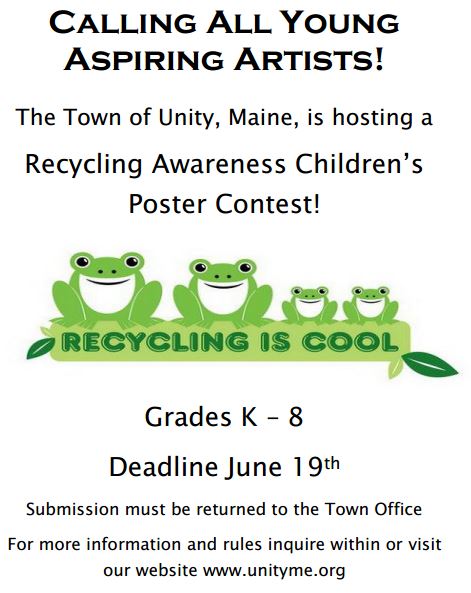 Sunday June 18


Monday June 19
Tuesday June 20
Thursday June 22
Sunday June 25
Makers Market 10:00 am – 2:00 pm at McKay Farm in Thorndike. Rain or Shine. Local vendors will be selling goods and wares in tents outside or in our greenhouse in the case of rain. Free admission! Vendor space still available.

Racing 1:30pm. Keystone 6 Shooters, Flyin 4's & Caged Enduros. (non caged) Regular Enduros (will be run last at the end of each event). American Racing tires allowed for this race
Monday June 26
Unity College Young Actors Camp June 26 -30, 2017 from 11:00 a.m. – 3:00 p.m. "Supporting the Whimsical"- a 5 day Acting Intensive for Young Adults
Wednesday June 28
Saturday July 8
Wednesday July 12
Sebasticook Regional Land Trust Monthly Speaker Series Restoring Connections to Place. 6:30 pm at 93 Main. For more information, please contact info@sebasticookrlt.org or 948-3766.
With paddle season upon us, there is no better time to investigate aquatic ecosystems. But which of those underwater plants are good, and which are unwanted invasives? John McPhedran of the Maine Department of Environmental Protection (DEP) will join the Sebasticook Regional Land Trust on July 12 at 6:30 pm to discuss native and invasive aquatic plants. No one has their eye on aquatic plant communities like McPhedran. As the DEP's Invasive Aquatic Plant Unit Leader, he has spent a career investigating threats to aquatic ecosystems and educating citizens on how to stop or limit the spread of aquatic invasive species. McPhedran's engaging presentation will help everyday paddlers identify both native and unwelcome invasives.
Saturday July 29