Behold, how good and how pleasant for brothers and sisters to dwell together in Unity -- Psalm 133

to our weekly email listing of upcoming events in Unity.
---
Town of Unity
American Legion Post 50
Birding
Business Directory
Comprehensive Plan
Churches
Unity Food Pantry
Friends of Lake Winnecook
Future MSAD3
The Garcelon House
Historical Society
Library
Lodging
MOFGA
Najean Shedyak Photography
Northern Solstice Alpacas
Realtors
Recycling
Restaurants
Rotary Club
Schools (RSU3)
Sebasticook Regional Land Trust
Trails
Unitel
Unitel Phonebook
Unity Barn Raisers
Unity Centre for Performing Arts
Unity College
Unity Flower Shop
Unity Food Hub
Unity Forge
Unity Foundation
Unity Pond Pottery
Unity Raceway
Unity Station
Unity Utilities District
WERU Radio
---
Week of July 23, 2017

The Unity Town Office hours will change effective July 31, 2017.
Hours will be:
Monday, Wednesday, Thursday, Friday: 8am - 2pm
Tuesday: 11am - 7pm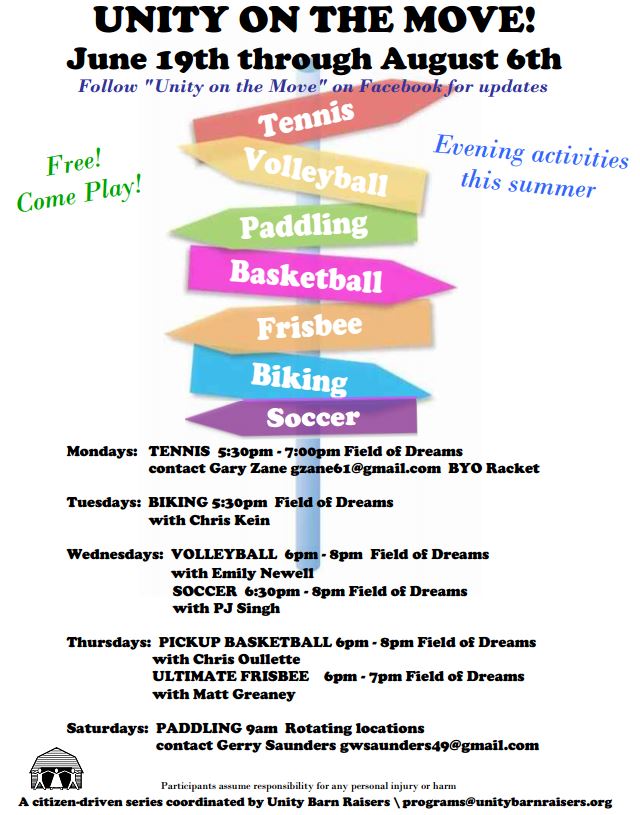 Sunday July 23
Wednesday July 26
Unity Planning Board Meeting 7 pm at the Town Office. Read minutes of past meetings.
Permits to be considered:
Number 717. Dana Edwards. Subdivision of lot 11-42-1 on Route 202 into 4 lots.
Number 152. Daniel Hershberger. House and garage on Lot 12-38 on Leelyn Drive.
Saturday July 29
Tuesday August 1
Wednesday August 9
Volunteer Cook Day with Chef Frank Giglio 9:30 a.m. at MOFGA's Common Ground Education Center, Unity, Maine. Join us in our kitchen as chef Frank Giglio leads us in preparing some dishes to stock our freezers. He'll share some great tips and recipes, and we'll have a great time making some food for MOFGA events. We'll have lunch and T-shirts for those who lend a hand. FMI: volunteers@mofga.org or call the MOFGA office at 568-4142.

Sebasticook Regional Land Trust Monthly Speaker Series Restoring Connections to Place. 6:30 pm at 93 Main. For more information, please contact info@sebasticookrlt.org or 948-3766.
Whatís the Buzz About Bees? What types of bees are found in Maine? Why are some bee species in decline? What can we do to protect bee populations in Maine? What plants encourage bees in our landscapes? Jenniferís talk will focus on understanding basic bee biology, nesting requirements, and foraging behavior in order to answer these and many other common questions about bees. Jennifer Lund is the State Apiculturist with the Maine Department of Agriculture, Conservation, and Forestry. The Apiary program helps prevent the introduction and spread of regulated honey bee diseases, parasites, and undesirable genetic material in resident and migratory honey bee colonies. It also helps facilitate the movement of honey bees for crop pollination and honey production. Jennifer Lund has a Masterís degree in Entomology from the University of Maine and almost 20 years of entomological experience. Jennifer is passionate about honeybee health and helping beekeepers succeed. Aside from managing the honeybee inspection program and helping Maine beekeepers, Jennifer also has several of her own hives that she maintains on her farm in Arglye Township, Maine.